The Energy Services Provider Interface (ESPI) provides a way for Energy Usage Information (EUI) to be shared, in a controlled manner, between participants in the energy services markets.
The OpenESPI project provides support for the development of deployable ESPI components that will help to rapidly and consistently engage the community with this exciting and enabling technology. Please read the OpenESPI Project Description and OpenESPI FAQ for further information! In addition: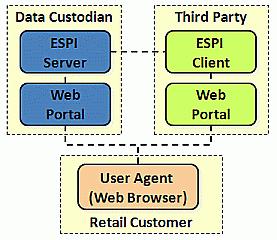 The UCAIug OpenADE Task Force submitted a request for the initiation of NAESB Model Business Practices on July 29, 2010 to standardize the interface which allows for the exchange of energy usage information between designated parties.
These Model Business Practices, building on the NAESB Energy Usage Information (EUI) Model, enable Retail Customers to share energy usage information with authorized Third Parties. This Energy Services Provider Interface (ESPI) provides a consistent method for Retail Customers to authorize a Third Party to gain access to energy usage data. Doing so will enable Retail Customers to choose Third Party products to assist them to better understand their energy usage and to make more economical decisions about their usage. ESPI will contribute to the development of an open and interoperable method for Third Party authorization and machine-to-machine exchange of Retail Customer usage information.
---
---

Current Working Calendar:

---